Let us help you plan your next meeting or special event!
Events, Birthdays, Engagements, Weddings, Wedding Receptions, Corporate Meetings and Parties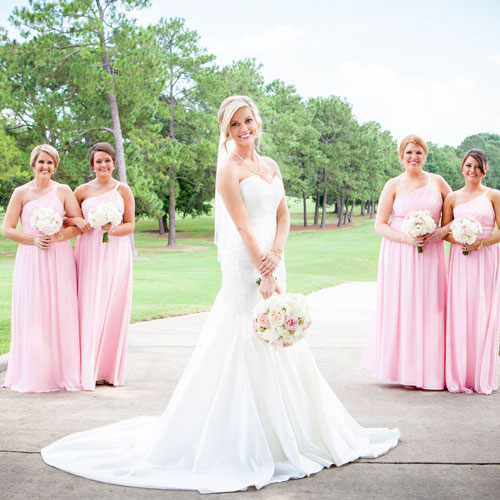 A recently restored mid-century modern landmark with 50+ years of experience, now open to the public.
Marry in Mobile at the city's only wedding venue with a hip, mid-century modern vibe! Operating for more than 50+ years as the area's most prestigious private country club, Heron Lakes Country Club is now under new management, has been recently restored, and is open to the public for wedding ceremonies and receptions for the first time in its storied history.
Heron Lakes Country Club offers 5,000+ square feet of event space that can accommodate 20 to 400 guests. Select from elegant and formal, chic and casual, large or small, indoors or outdoors for your special day. Whatever your vision of a dream wedding, Heron Lakes Country Club offers a perfect canvas to create a wedding that reflects your individual style and taste.
The beautiful ballroom features chandeliers, hardwood floors and breathtaking panoramic views overlooking the golf course and pool. Private dressing areas are available for the bridal party and groomsmen, and the picturesque golf course provides the a perfect backdrop for your wedding photos.
Relax and enjoy your day with the help of Heron Lakes' experienced event planner, executive chef and catering staff.
8,884 +/- sq ft 
Total Indoor Event Space

250 
 Capacity Largest Space

What's included in room rental:
4 hours of time for the event
tables
chairs
tablecloths
chair covers
linen napkins
dinnerware
drink ware
serve ware
waitstaff
wedding parties can use our club locker rooms
Meeting Equipment
AV equipment cables
CD player
Microphone/ Podium
Rear screen projection
Stage
TV
Speakers
High-speed Internet access
Meeting rooms: Wired, Wireless
Catering
Afternoon Break
Brunch Bar & Appetizers
Coffee Break
Continental Breakfast
Dinner
Breakfast
Lunch
Capacity Chart
Function Space
Area Size
Theater
Schoolroom
Conference
U-Shape
Reception
Banquet

Main Ballroom 

2760sq ft

350

150

50

68

160

250

Overlook Ballroom

1740sq ft

200

50

40

30

75

110

Herons Lounge

1175sq ft

40

40

24

36

50

60

Herons Nest

120sq ft

30

28

16

26

20

20

Family Room

1960 sq ft

70

40

30

36

70

120

Conference

594sq ft

30

20

16

28

15

40

19

th

Hole 

1122sq ft

30

15

20

24

45

48
Room Set-Up Styles

THEATER
Appropriate for large sessions and short lectures that do not require extensive notetaking. This is a convenient setup to use before breaking into discussion or role-playing groups because chairs can be moved.

SCHOOLROOM OR CLASSROOM
The most desirable setup for medium to large-size lectures. Requires a relatively large room. Tables provide attendees with space for spreading out materials and taking notes.

RECEPTION
Stand-up social function where beverages and light foods are served. Foods may be presented on small buffet tables or passed by servers. May precede a meal function.

OVALS AND ROUNDS
Generally used for meals and sessions involving small group discussions. A five-foot round table seats eight people comfortably. A six-foot round table seats 10 people comfortably.

E-SHAPE, U-SHAPE AND T-SHAPE
Appropriate for groups of fewer than 40 people. These are best for interaction with a leader seated at the head of the setup. Audiovisual is usually best set up at the open end of the seating.

BANQUET
Generally used for meals and sessions involving small group discussions. A five foot round table seats eight people comfortably. A six foot round table seats 10 people comfortably.

CONFERENCE AND HOLLOW SQUARE
Appropriate for interactive discussions and note-taking sessions for fewer than 25 people. Many hotels have elegant "boardrooms" for 10 to 20 people, equipped with full audiovisual capabilities, a writing board, cork board and a flip chart.
About this Venue
Adequate & free parking
Host a casual meeting or an elegant gathering in any of our function spaces with the help of our catering services
From training seminars to full on wedding ceremonies, our team can offer you the best service
Our AV equipment is complimentary
Mobile Regional Airport is 7.4 miles away
Best location in Mobile, Alabama with easy access to two major interstates. (I-10 and I-65)
Event Spaces:
1) Main Ballroom- built-in stage & hard wood dance floor (Capacity: 0-200 guest)
2) Overlook Ballroom (Capacity: 0-100 guest)
3) Family Dining Room-built in buffet bar in center of the room (Capacity: 0-100 guest)
4) Herons Lounge- built in bar to the left of the room (Capacity: 0-60 guest)
5) Herons Nest- inside the Dining Room (Capacity:0-20 guest)
6) 19th Hole- inside the Dining Room (Capacity: 0-30 guest)
7) Outdoor Veranda-concrete area (Capacity:0-300 guest)
8) Outdoor Golf course greens-grass area (Capacity: 0-300 guest