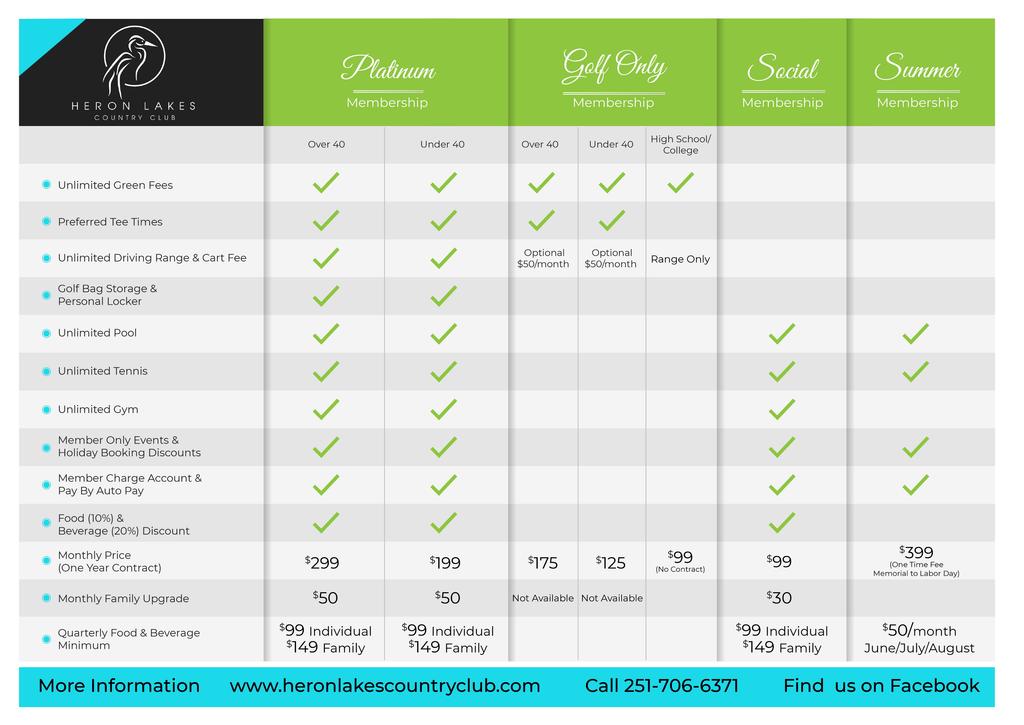 Heron Lakes Country Club
Thank you for your interest in joining Heron Lakes Country Club, located in Mobile, Alabama. Heron Lakes has recently undergone a major renovation to the entire clubhouse and golf course making it a great choice for you and your family! We look forward to offering you a world class experience through the multiple golf memberships available at Heron Lakes.
Joining our club is easy! Complete the membership application or contact us today at 251-706-6371 or memberservices@heronlakescountryclub.com for more information. You can call to make an appointment, or stop by to see us during open hours!
New golf membership options are now available that make it affordable for everyone.
Heron Lakes Country Club in Mobile, Alabama has designed the membership structure to appeal to all. The membership options are simple and all inclusive. The club events will offer a variety of social and culinary experiences that will be focused on maximizing your enjoyment of life. Family, friendship, exceptional food, entertainment, and recreation are the core elements of a healthy and happy life. Heron Lakes Country Club offers the best of these in a fun and relaxed atmosphere.
Platinum Membership
If you are a golfer, the Platinum Memberships includes:
• Unlimited golf
• Unlimited range balls
• Unlimited cart plan
• Unlimited use of the tennis facility
• Unlimited use of the gym
• Unlimited use of the pool
• Member locker and bag storage
Members also enjoy additional amenities that include longer booking windows, full access to member only dining and bar options, full access to member events and complimentary childcare. As a member, you will be able to book event space with longer booking windows and substantially discounted space fees.
Monthly Price (one year contract) Over 40 $299/under 40 $199
Monthly family upgrade $50
Over 40 monthly food & beverage minimum $99 individual/$149 family
Under 40 monthly food & beverage minimum $99 individual/$149 family
Golf Only Membership
Golf Only Membership includes:
• Unlimited Green Fees
• Prefered Tee Times
• Optional $50 upgrade for unlimited range balls & cart fees
Over 40 $175 (optional $50 upgrade unlimited carts and range balls)
Under 40 $125 (optional $50 upgrade unlimited carts and range balls)
Social Membership
If you are not a golfer or play just a few times a year, the Social Membership will give you full access to all of the club amenities except for golf, including:
• Unlimited use of the tennis facility
• Unlimited use of the gym
• Unlimited use of the pool
In addition, the House Membership allows you all of the luxuries of being a member which include full access to member only dining and bar options, full access to member events and complimentary child care. As a member, you will be able to book event space with longer booking windows and substantially discounted space fees.
$99 monthly (one year contarct)
$30 monthly family upgrade
Quarterly food and beverage minimum $99 Individual/ $149 family
Junior/College Membership (Golf Only)
Any junior under 18 years old or anyone enrolled as a full time college student can be a golf only walking member. Membership includes:
• Unlimited green fees
• Unlimited range balls
• Member cart fees apply with proof of driver's license.
$99 monthly no contract
Summer Pool Membership
Our Summer Pool Membership is from Memorial Day to Labor Day, comes with a member charge account, and autodraft. (F&B summer minimum of $149 will be due at the end of August.)
Benefits include:
• Unlimited use of the tennis facility
• Unlimited use of the pool
In addition, the Summer Poool Membership allows you all of the luxuries of being a member from Memorial Day to Labor Day, which include full access to member only dining and bar options, full access to member events. As a member, you will be able to book event space with longer booking windows and substantially discounted space fees.
$399 (one time fee Memorial Day to Labor Day)
$50 monthly June/July/August